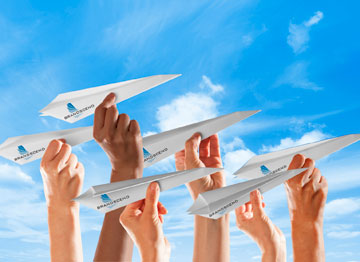 Brandscend's principals have made their mark in print, broadcast and web, serving industries as diverse as automotive, foodservice and healthcare. Why the sudden interest in aviation?
While it's true we've been busy writing headlines, designing layouts and programming websites for quite some time, the jones we feel to grow aviation businesses in particular isn't new. You see, we've also spent the past 20 years pursuing an equal passion: flying. This includes aircraft ownership as well as earning our Commercial, CFII and MEI. We've even gone as far as working part-time with
Virgin America
in order to feed the need.
Each month, we read the aviation magazines (AOPA Pilot, Flight Training, Flying) the same as you. We trek to OshKosh annually. We grab every marketing piece from airplane manufacturers, aircraft part suppliers, FBOs, Part 135 operators and flight schools that we can. We analyze each and every detail and think about what could dial things up a notch to boost sales and grow market share.
Aviation is unlike any other industry — most proprietors are themselves consumers
(pilots). Your marketing firm should know the difference between an ILS and a VSI
no less than it knows the difference between ROI and CPM. Brandscend is one of the few
firms that does.
The simple truth is, we're hungry to help clients in the aviation industry. The fact that we're aviators ourselves positions us to understand your needs and the mindset of your customers better than most other marketing firms. In short, we are your target audience, and that puts our consumer insight on a whole other level.